Princess Alexandra Hospital
The Princess Alexandra Hospital NHS Trust is located in Harlow, Essex and is a 489 bedded District General Hospital providing a comprehensive range of safe and reliable acute and specialist services to a local population of 258,000 people.
Princess Alexandra Hospital appointed Wayfinder UK to undertake a cohesive wayfinding strategy to produce an innovative solution to tackle issues of misdirection around the hospital environment.
Wayfinder UK were able to develop a detailed wayfinding strategy which worked in harmony with both staff and patients, increasing efficiencies whilst improving the brand image of the hospital. The hospital site was in the process of some development work, with new roads being built around the hospital. The team worked to create a cohesive strategy for the whole site, sympathetic with the structures design, both inside and out.
A strategy which would extend effectively into the wider environment without compromise. The consultants needed to guide visitors into the hospital from the roundabout, many visitors were simply missing the correct turning, leading to late and missed appointments. The team also realised that due to the hospitals ambition for future development that a flexible and durable solution was necessary, one which could be easily modified at a later date.
Princess Alexandra Hospital has enjoyed huge success with the implementation of their specified wayfinding system. The hospital worked closely with Wayfinder UK to produce a solution that communicates clearly and allows the hospital to function in an efficient and cohesive manner. These consistent improvements promote a greater level of understanding for staff and patients alike, creating a unified structure of success to take into the future. We have continued to work alongside the hospital giving advice and guidance where necessary.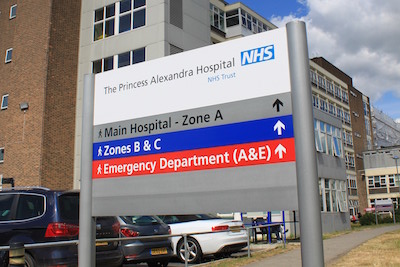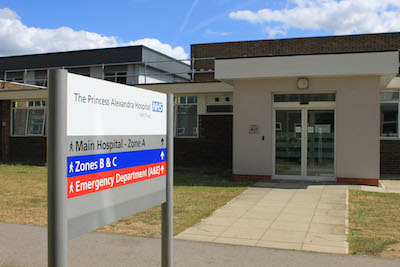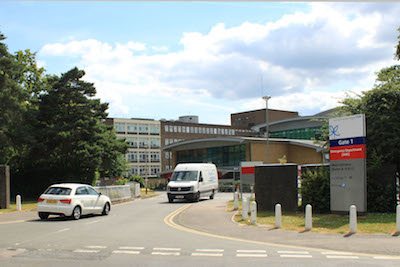 Hospital Wayfinding
In addition to the project showcased here, Wayfinder have delivered wayfinding projects to lots of other clients in this sector. Here are just a selection of them:
Airedale Hospital, Yorkshire
The Christie, Manchester
The Christie @ Salford Royal Hospital
The Christie @ Royal Oldham Hospital
Kensington and Chelsea Hospital
Springfield University Hospital
University Hospitals Bristol
Bristol Royal Infirmary
St Michael's Hospital Bristol
Royal United Hospital Bath (four hospitals on site)
Royal Blackburn Hospital
Blackpool Fylde and Wyre Hospital Trust
Blackpool Victoria Hospital
Bristol Royal Hospital for Children
St Bart's Hospital London
Harlow Hospital
The Princess Alexandra Hospital Trust
Health Care Professions Council (HCPC)
Gabowen Hospital
Robert Jones and Agnes Hunt Orthopaedic Hospital
The Royal Wolverhampton Hospitals Trust
New cross hospital
Addenbrooke's Hospital Cambridge
Bolton One Health centre
St Charles Hospital, London
South West London and St George's Trust
Queen Victoria Hospital East Grinstead
Hull University Teaching Hospitals
Hull Royal Infirmary
Castle Hill Hospital Hull
The Christie Proton Beam Centre (first in the UK)
Clatterbridge Cancer Hospital Liverpool
Royal Victoria Infirmary Newcastle
Wythenshawe Manchester
The Princess Alexandra Harlow
Mid Yorkshire Hospitals NHS Trust
Pinderfields Hospital
Dewsbury and District Hospital
Pontefract Hospital
Wye Valley NHS Trust
Stratford Hospital
Our Wayfinding Process
This website is designed to offer only general information, therefore the content does not explain the important technical details involved in the wayfinding process.
Such information is restricted to client briefings, in order to protect our intellectual property. As this information is vital to your understanding of our services and the many benefits, we are more than happy to explain in detail, either over the telephone or face to face.
To find out more, please email enquiries@wayfinding.co.uk to arrange a free, no obligation telephone conversation with one of our senior consultants.