Bolton One
The town wayfinding has helped guide people to the building, by creating stronger communication links on approach to the complex.
Completed in 2012, the £34-million Bolton One is a swimming pool, health and academic centre created a significant landmark in the Bolton Innovation Zone. The flagship health and fitness facility was a joint project between Bolton Council, Bolton University and the NHS. The facility boasts a competition standard, eight-lane, 25-metre swimming pool, with a moveable floor to accommodate swimming lessons and aqua aerobics, and 250 spectators for gala events. A community gym, dance studio and fitness suite also form part of the leisure complex.
An urgent care, diagnostic and treatment centre, managed by the NHS within the complex provides a 'walk-in' service for patients. The centre offers a convenient assessment, advice and treatment service to help patients avoid unnecessary trips to Accident and Emergency departments for the treatment of minor injuries and illnesses. Other urgent care such as GP out of hours services will also be based here.
The University offers a Centre of Excellence for Health and Wellbeing, which includes a clinical skills laboratory facilities; a rehabilitation suite, including rehabilitation clinics; sports injury and exercise and conditioning clinics; teaching and seminar rooms and test-running track. Bolton One received the BREEAM Excellent rating, a national sustainability measure used for new buildings, making it a landmark building for the town.
Wayfinder UK were happy to be a part of this exciting development. The team looked to this project as a chance to help to integrate this new facility within the wider community. The wide range of uses for this building was analysed and a strategy was considered which was sympathetic to the buildings distinct sections, whilst working cohesively as one facility. The unified wayfinding strategy proposed needed to understand the needs of all parties involved, whilst ensuring Bolton was integrated into the new project through efficient communication links.
Internally the team wanted to ensure that all three sections of Bolton One had their own identity. The public needed to understand the different functions of the buildings quickly and effectively, therefore it was important to promote separate brand identities in order for the strategy to be clear and effective. It was also important to guide the public in each specific area through a consistent signage system. Such consistencies would allow ease of navigation, meaning no matter the intended destination, the journey would be intuitive and straight forward.
Bolton One was deemed a great success and continues to be seen as a landmark building. The town wayfinding has helped guide people to the building, by creating stronger communication links on approach to the complex. The facilities have proved very popular for all ages, having a positive influence on the wider community as a whole. Wayfinder UK were praised on their work ethic, ensuring Bolton Council, Bolton University & NHS were all happy with the overall strategy.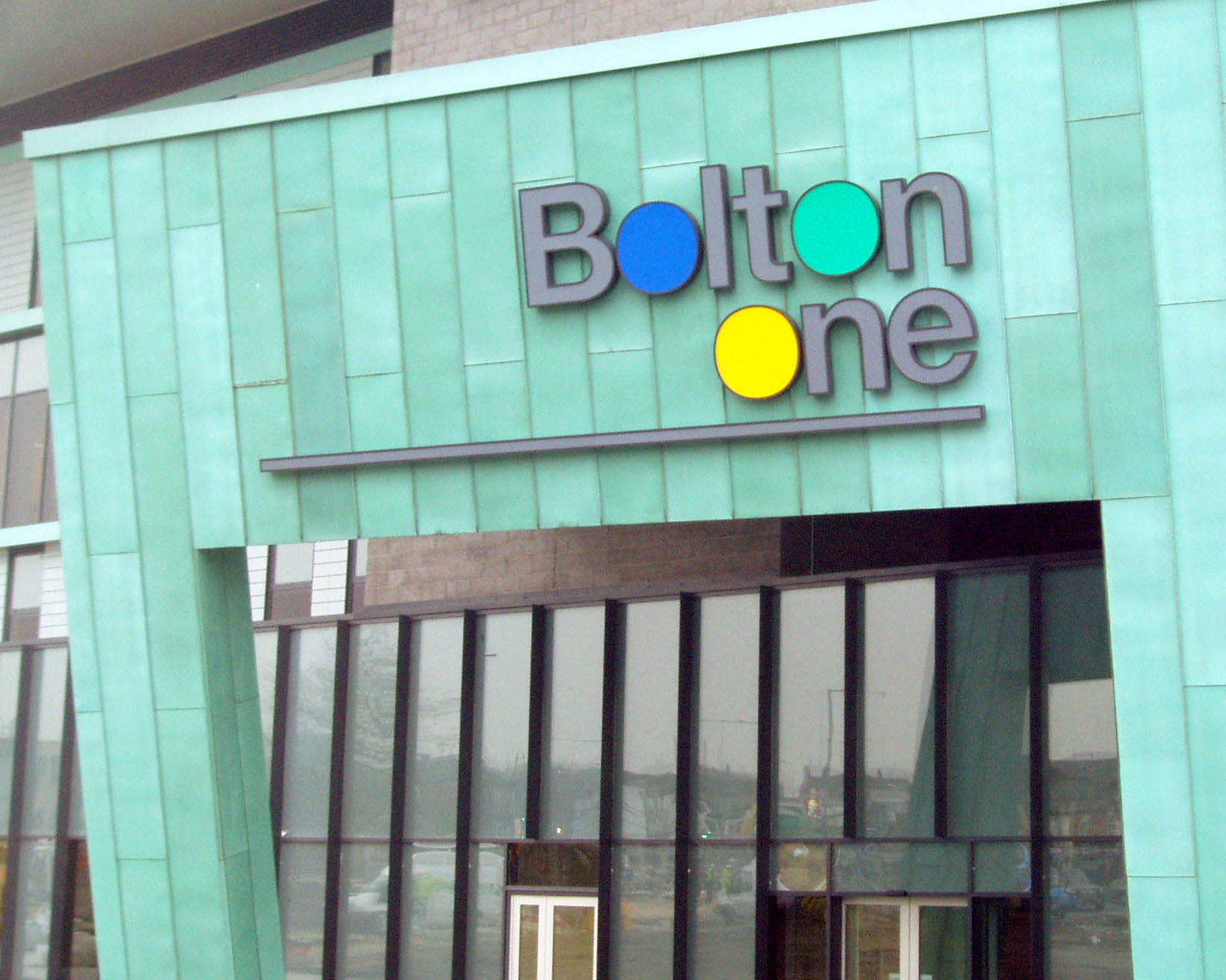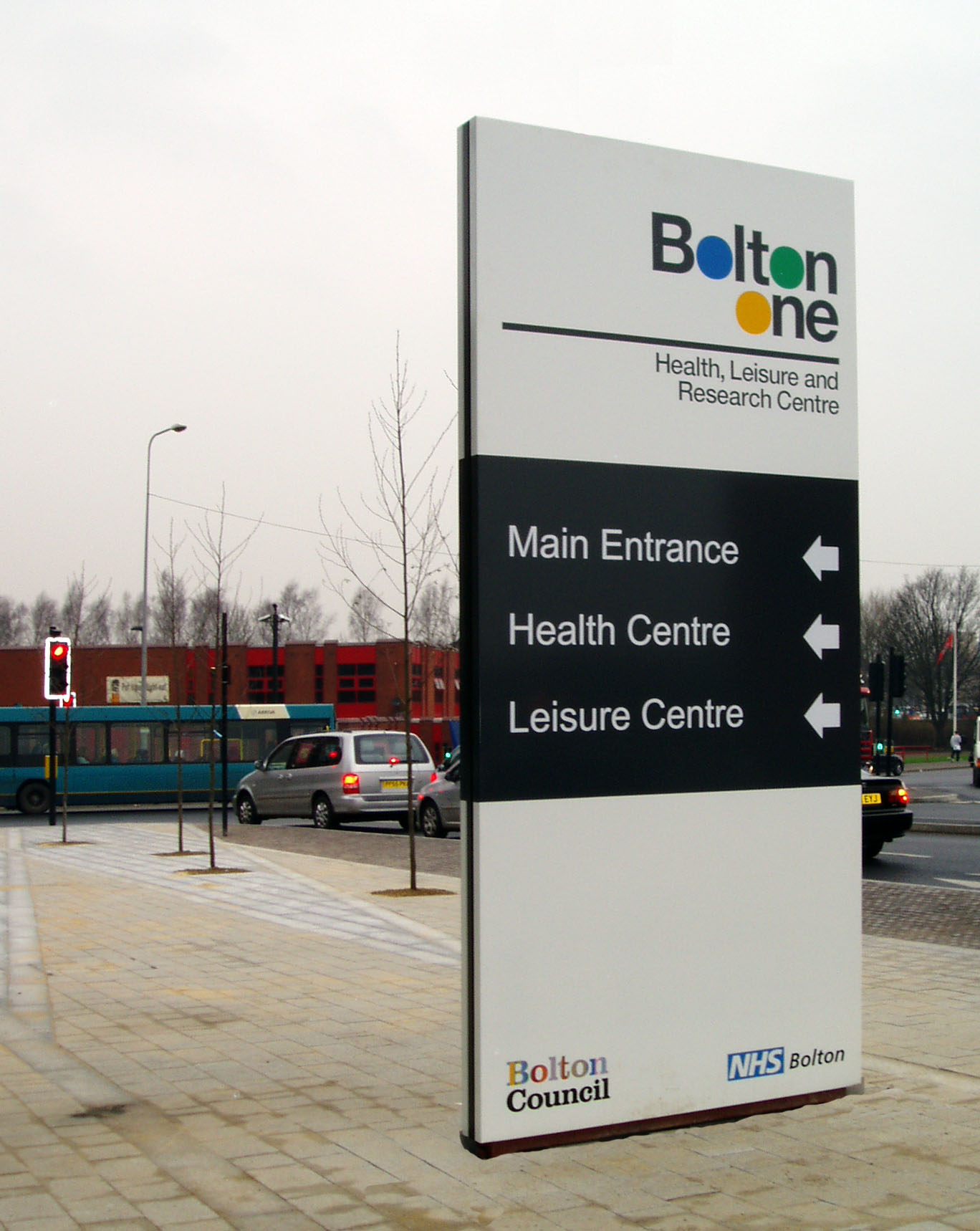 Town and City Wayfinding
In addition to the project showcased here, Wayfinder have delivered wayfinding projects to lots of other clients in this sector. Here are just a selection of them:
HOME (Cinema, Theatre, Arts Venue Manchester)
Bolton MBC town Centre complex
Blackburn Market
Menwith Hill (airbase)
North Wales Police
East Sussex Police
Bolton One Sports complex
Spice Ball Leisure Centre, Banbury
Jason Kenny Centre, Bolton
Richmond Park estate, Sheffield
Connexions
Catmose Campus
Great Places Housing Group
Our Wayfinding Process
This website is designed to offer only general information, therefore the content does not explain the important technical details involved in the wayfinding process.
Such information is restricted to client briefings, in order to protect our intellectual property. As this information is vital to your understanding of our services and the many benefits, we are more than happy to explain in detail, either over the telephone or face to face.
To find out more, please email enquiries@wayfinding.co.uk to arrange a free, no obligation telephone conversation with one of our senior consultants.